John Lennon's response did not sound sympathetic, but it did reflect a world-weariness. It also reflected Lennon's understanding of Elvis Presley's life and career since March 1958. "Elvis died in the Army," Lennon said when learning that Presley had died on August 16, 1977.
Once discharged from The U.S. Army in 1960, Presley's great career took a troubling turn. Under the direction of manager Colonel Tom Parker, Presley's rock and roll persona was mostly set aside. The '60s Elvis would not be so brash, so threatening and so lively. The King of Rock and Roll abandoned his throne. He would still record more than a handful of great songs over the next seventeen years but his rocking spirit was largely suppressed. Never again would he record songs of such raw power as "One Night," "Hound Dog" or "Jailhouse Rock."
As the '60s began, Elvis Presley became the type of entertainer one expected to see on TV variety shows. In fact, his "Welcome Home" television special was hosted by Frank Sinatra, who had belittled Presley and rock and roll music two years earlier. Mainly he starred in a series of movies for the young and fun. The movies featured Presley frolicking with the likes of Ursula Andress, Ann-Margaret and Mary Tyler Moore. Nice work if you can get it, but not the direction hard core fans of Elvis Presley thought he would take before the Army, the Colonel and commercial considerations ordained a new career path.
For eight years, beginning in 1960, Presley recorded 15 soundtrack albums for the mostly forgettable movies he made in assembly-line fashion. Most of the songs were forgettable as well. Occasionally songs not featured in the movies would be released, some worthy of his great voice, if not his legacy.  In '68, he determined to concentrate more seriously on his music, in the studio and eventually, before live audiences. The renewed interest in his recording career did not lead to the kind of success he enjoyed in the '50s but that was to be expected. Upon the emergence of The Beatles, Bob Dylan and the various directions rock music was taking, Elvis Presley couldn't be a pacesetter again. But he still had that great voice. So if he came upon a great song that really intrigued him, then his fans and the music world itself would take notice.
"Suspicious Minds," his 1969 hit, gained lots of notice. It was the highwater mark of his comeback years; Presley's last number one single before his death. All the right elements were in place. First of all, "Suspicious Minds" tells a good story. The lyrics convey the anguish of an unfaithful lover who knows he's paying for his wandering ways. There's the proper remorse over hurting his woman. He wants the chance to start anew, but they won't if she doesn't trust him anymore. She suspects him more often than not. A reconciliation is on hold. They're caught in a trap.
The great song and the great singer meet. Presley doesn't let the opportunity slide. The affinity he has for the song is obvious. He begins "Suspicious Minds" softly and deliberately, building up to a full-tilt effort as he, his band and back-up vocalists combine for a classic performance. The song soars. It's a Presley recording worthy of the standard he set in the '50s.The power of "Suspicious Minds" declared The King of Rock and Roll was back.
Presley was working with legendary Memphis producer Chips Moman that year, showing more attention to his music than he had in over a decade. Moman presented him with "Suspicious Minds," a song his staff songwriter, Mark James, had recorded. The version by James, with an arrangement  similar to Presley's, went nowhere on the charts. It was thought James' voice was too pretty to get the song's R & B flavor across. A pretty voice does not handle angst well either.  James' voice was a better match for "Hooked On A Feeling," the '68 hit he wrote for B. J. Thomas.  But the guy who sang "Heartbreak Hotel" could handle angst, and when the song called for it, the guy could be soulful as well.
In his book, The Heart Of Rock And Soul, critic Dave Marsh says that Presley was completely in command of his musical faculties while working on "Suspicious Minds." Marsh says the song argues for "Elvis-as-artist, despite all the wasted years in Hollywood." Presley's voice, with its rough edges and range, along with his sheer determination, created what Marsh calls "an interpretation of soul music; hillbilly Jerry Butler, more or less." Given that Presley covered Butler's "Only The Strong Survive" the same year; that's a relevant observation. After all, Presley had long ago forged America's musical genres and this time "The Hillbilly Cat" had gone uptown in a big way. "Suspicious Minds" is one hard-charging sophisticated piece of music; one to chase away some of the clouds that started gathering in 1958.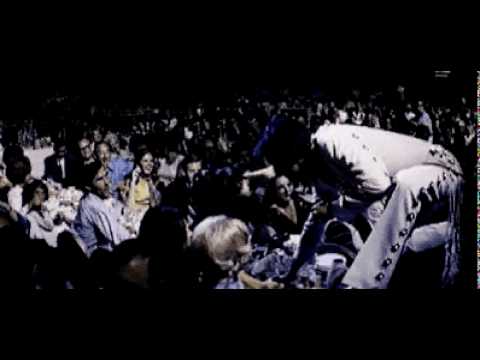 ###
Jeff Cochran worked in advertising at The Atlanta Journal-Constitution for 27 years before accepting a buy-out in the Summer of 2008. In the seventies/early eighties, he handled advertising for Peaches Records and Tapes' Southeastern and Midwestern stores. He also wrote record reviews for The Great Speckled Bird, a ground-breaking underground newspaper based in Atlanta.