The fierce urgency of litter
The folks who run Tybee Island are getting serious about litter, again.
No, really. They mean it this time.
They wanted to stop litter back when they made Naz T. Butt their official, if cartoonish, anti-litter spokesfigure.
They had the best of intentions when they passed their existing anti-litter regulation. And the one before that. And when they agreed to let Lamar Outdoor Advertising donate three billboards on the island to advertise the get-tough slogan "Some Butts Don't Belong On The Beach." Like outdoor billboards aren't litter taken to its most extreme.
But now the Tybee City Council plans to beautify Georgia's northernmost beach by enacting a $100 minimum fine for littering on the beach or at city parks or parking lots.
The Tybee Council, or any local government, can pass all the rules it wants about litter. The problem won't be solved unless local police decide litter is an issue worth fighting. The problem won't be solved unless local governments make stopping litter a priority.
Police have plenty on their minds maintaining public order. Fighting litter is pretty low on their list of things to do. But if a town, say Tybee, were to hire an officer specifically to fight litter, that officer would need nothing more than a good camera to nail the folks who toss litter. The fines generated by such an officer would far exceed the officer's salary requirements. In fact, the bet here in the flat woods is that a good litter officer would generate enough extra to pay a litter pickup crew. That would reduce unemployment and free those prison road crews for vital tasks such as grass cutting and  sidewalk sweeping.
Will they do it? Most doubtful. Even beautiful Tybee, a burg never shy about raising revenue by slapping fines on tourists, seems to lack the will to attack litter with more than civic-minded slogans.
If they were serious about litter, there would be a cop on that beat.
There is trash in the flat woods, too.
A young man in a pickup truck drove past the P.W. Pete homestead early on Sunday morning and flung out a beer can.
"Hey!" I shouted.
"What?" he called back.
"Don't throw out that trash on the street."
"The city will pick it up." He rammed his truck into low gear.
"No they won't," I shouted back.
"Well, then the county will get it."
"No, they  won't," I said. "I'll have to pick it up."
The young man drove off, then circled the block and came back down my street. He got out of his truck, picked up the beer can and heaved it toward the woods opposite my house.
Millard Fuller, founder of Habitat for Humanity, said it best: "A community which will tolerate trash will tolerate shacks."
Litter is urgent.
__________________________________
A gotta see YouTube of one of Tybee's anti-litter TV spots: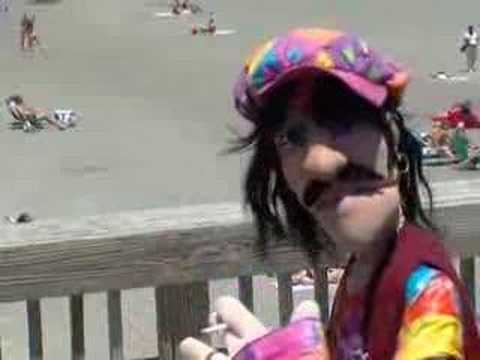 ###
Hard-charging salesman by day, Piney Woods Pete stays up late into the foggy night to render words.